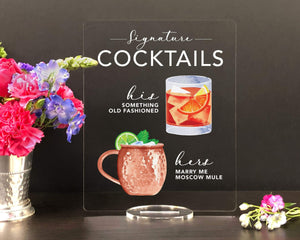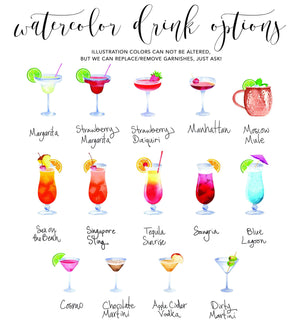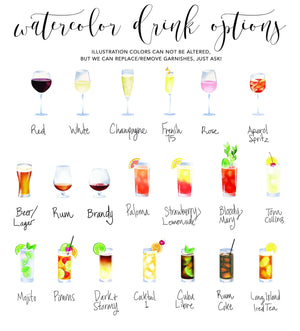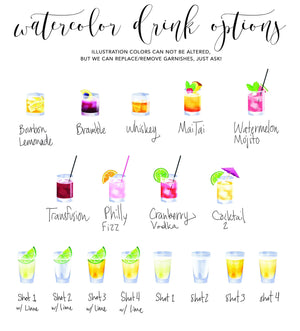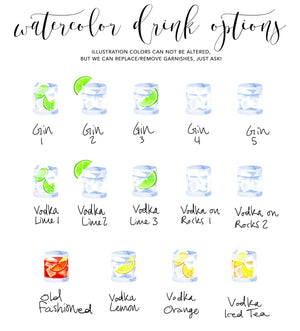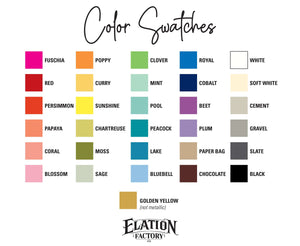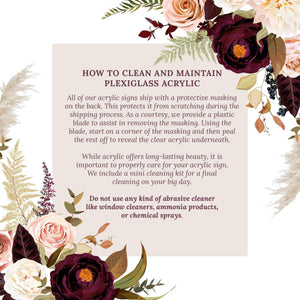 Bar Menu Signature Drinks! -Hers and His - Bar Menu Sign, Bar Sign for wedding and special events.
Bar Menu Signature Cocktails, Ours, His, and Hers, Bar Menu Sign - Wedding and Event Acrylic Sign
Semi-Custom Drink Sign. Beautiful Printing - not vinyl


HOW TO ORDER :
Choose your size 7"H x 5"W Portrait -or- 10"H x 8"W Portrait (10"H x 8"W is pictured).
In the personalization - 
Enter your drink illustration choices from the "Watercolor Drink Options" in the listing.




Enter the names of each drink.




Pick the font color you would like. The default color will be white. Note that our Golds are not metallic.




We will send you a proof before it ships.




PLEASE NOTE: Any other changes beyond the items above such as sign verbiage, layout, etc will require an additional customization fee.

SIGN DETAILS:
Sizes: Either 7"H x 5"W or 10"H x 8"W (shown) with smooth and visually appealing rounded corners!
Material: Acrylic (Not Glass)
Font Color: White
Base/Holder: Acrylic


We provide a clear acrylic stand/base.




Our acrylic signs are moisture-resistant & visually better than glass!




We even include a mini cleaning kit with every order for final cleaning at the venue of your big day!!




SHIPPING:
-Rush orders available, please contact us for details prior to any purchase
-Approximate ship date can be found on your invoice


We are here to help ensure your event has fabulous signs and decor. Count on us for your next event!
Well Pleased
Thanks to Elation Factory we were able to get the signs needed in time for our wedding. The signs looked great! And the customer service was on point. Thanks again guys!
Look no further!
From quality, turn around, price & customer service... This is a no brainer and i will never shop elsewhere for aryclic signs! Thank you for brining my vision to life!
Bar sign
The sign is great! I will say the size took me by surprise. I expected it to be bigger.
As pictured and good quality
As pictured and good quality