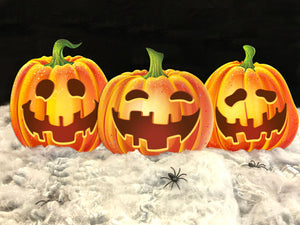 Halloween Table Decoration Pumpkin Set, Halloween Decor, Jack-o'-lantern

Set of three beautiful Handcrafted Halloween décor! Makes a wonderful gift! 

Happy Halloween for You and All Your  Family Members! Beautiful on the Halloween Party table.

Each of our ornament sets is handmade for you!

Beautiful Full-Color Printing - not vinyl


ORNAMENTS DETAILS:
Sizes: 6"H x 8"W, 6.5"H x 8.5"W, 7"H x 7.5"W
Material: Clear Acrylic (Not Glass)
Printing: Full Color
Stand: Clear Acrylic
Our acrylic ornaments are moisture-resistant & visually better than glass!

We love making custom signs!
Please contact us if you have a need that we do not already offer.