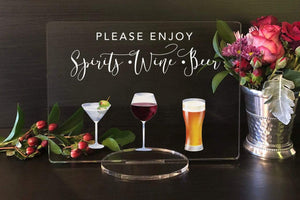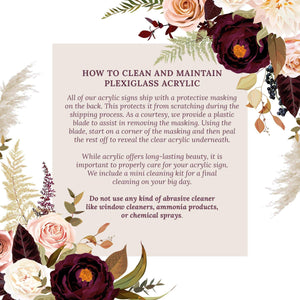 Please Enjoy Wine, Beer and Spirits - Open Bar Sign - Open Bar for Wedding, Bar Menu Sign, Wedding Open Bar - Wine - Beer Acrylic Wedding Sign
Open Bar Sign! - Open Bar for Wedding - Wedding Open Bar- Wine - Beer Acrylic Wedding Sign, Bar Menu Sign
Beautiful White Printing - not vinyl

SIGN DETAILS:
Sizes: Either 5"H x 7"W or 8"H x 10"W (shown) with smooth and visually appealing rounded corners!
Material: Acrylic (Not Glass)
Font Color: White
Base/Holder: Acrylic


We provide a clear acrylic stand/base.




Our acrylic signs are moisture-resistant & visually better than glass!




We even include a mini cleaning kit with every order for final cleaning at the venue of your big day!!




SHIPPING:
-Rush orders available, please contact us for details prior to any purchase
-Approximate ship date can be found on your invoice


We are here to help ensure your event has fabulous signs and decor. Count on us for your next event!